From public spaces to the home, we support the realization of comfortable living.
In order to realize a rich and comfortable welfare society, we have been studying universal design from the standpoint of users and have established our unique DID design concept. One of the concepts is to change welfare equipment from "machine to furniture". We are contributing to a barrier-free society through the development of welfare equipment that can be used easily by anyone.
Chairlift for Stairs, "Rakuchin-Go", "ESCORT Slim"
"Helping to enrich life". That is our basic approach to welfare society. In order to develop welfare equipment that is easy to use and friendly to humans, it is important to incorporate women's sensibilities into the development, then female staff members are promoted. We aim to create welfare equipment that can be applied not only to public spaces but also to general housing. A stairlifts that supports climbing up and down stairs should be like furniture that gently envelop people and harmonizes with the home. ESCORT Slim has achieved a high level of space saving in addition to the superior design that has evolved from a machine to a piece of furniture. Increasingly, it has evolved into a stairlift that harmonizes with Japanese houses.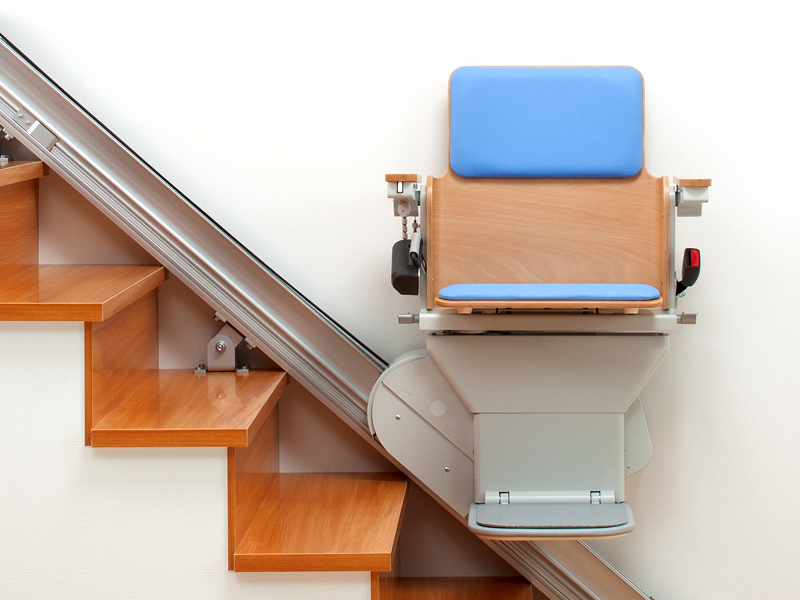 Wheelchair Stair Lift
This is a "wheelchair stair lift" that does not require a dedicated hoistway and can be installed on existing stairs. The fastest speed in Japan and the smooth ride are realized, mainly meeting the needs of public spaces such as station buildings.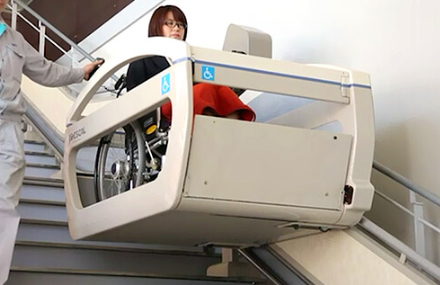 Stair-Assist Handrail,"AssiStep"
AssiStep is a stair-assist handrail that safely supports people who have reduced motor function and are worried about using stairs. By using AssiStep, the remaining functions can be prevented from deteriorating, and self-reliance support utilizing the remaining functions can be performed.
Stair support
Because of the unit assembly method (module type), the rail can be attached according to the various types of stairs , and by moving the handle attached to the rail, you can safely go up and down the stairs. The rails can also be used as handrails.
Easy installation
It is not building equipment, so not necessary to take procedures such as reporting to the administrative agencies to install. The installation is completed in a day, just like a general stair rails.