We are committed to environmental maintenance contributing to local people and societies.
Green Factory
We have integrated various kinds of processes for preventing air and water pollution due to smoke and wastewater emitted from the plant. We are also committed the reduction of resource and energy consumption in order to coexist and live together with the local society.
Promotion of Green Procurement
We procure materials and sub materials that can be recycled. We thoroughly prohibit using any hazardous chemical substances and have shifted to using materials with fewer environmental wastes.
Packing and wrapping of products
We make efforts to reduce the use of packing and wrapping materials and reuse them by simplifying the wrapping of products, reviewing the packing materials, and using returnable containers.
Reduction in the amount of refuse and recycling
We make efforts to reduce the amount of refuse discharged from the plant by improving the yield ratio of materials and reducing the defective ratio, as well as actively promoting recycling of resources.
Office
We reduced the amount of paper, electricity used, waste discharged, and fully recycled paper by sorting out used paper.
Compliance with the laws
We tighten management and monitoring of our facilities by setting our self-imposed management criteria that is more strict than the current laws and regulations.
Environmental Volunteers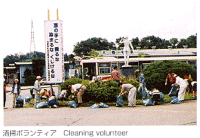 A number of our employees have participated in the environmental volunteer activities for "Clean Beach & River in Kaga (city)" and other cleaning activities to create a clean town together with the people of the local societies.