We promise to provide the highest level of reliability and safety by complying with internationally recognized quality assurance standards.
ISO9001 Certification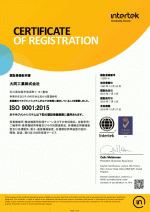 ISO9001 certificate is crucial for supplying products to countries all over the world.
We, at Daido Kogyo Co., Ltd. are qualified for every process from design, development, production, and installation to technical assistance services for all of the products we manufacture including conveyor systems, welfare equipment, rims and wheels as well as various kinds of chains.
We strive to increase customer satisfaction by continuously improving our quality management system.
API Standards Certification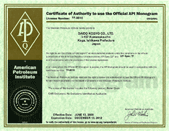 The petroleum industry field is the core of today's industries. The United States industry, which leads the global market, requires very strict quality management for all machinery components related to oil field development and petroleum refineries. API (American Petroleum Institute) is an institute responsible for setting standards and qualifying in accordance with these standards.
We, at Daido Kogyo Co., Ltd. obtained this certificate for industrial machinery chains in 1972. Since then, in compliance with API's strict quality management system we have delivered our D.I.D products to domestic and foreign customers, as well as the U.S. market.